Custom Molded Rubber
VPK offers a complete line of molded rubber products. Each of our molded products must meet stringent quality and technical specifications to ensure efficiency and safety across applications. These products include injection and transfer molded parts, dense rubber, compression-molded parts, insert – molded, and rubber-to-metal bonded products. We also offer the added service of bonding rubber to metal during the molding process. And we provide a variety of molded rubber products like Anti-vibration grommets, Manifold grommets, Molded seals, Panel grommets, Refrigeration.
O Ring's
VPK rubber corporation is one of the manufacture O Rings, Rubber o ring and rubber ring kits that are made using quality materials like neoprene, silicon, Viton, polyurethane, etc. The rubber o ring is also used in the automobile industry as sealants. Our clients can give their specifications and avail our services with their choice of sizes depending on their drawings and samples. We offer a complete range of high-quality O Rings like rubber o ring kits and rubber rings that are available in standard sizes. In addition to that, we also offer custom O Rings, which can be made available in standard cross sections imperial and metric to any length. They will be molded or spliced using vulcanizing or adhesive depending upon application.
Rubber Seals
We are offers a variety of specialty rubber seals in elastomers. Compounds for rubber seals used in plumbing applications developed to meet challenging application requirements from high or low-pressure exposure, for hydraulic sealing applications to ranging temperature and chemical exposures. Custom rubber seals and elastomeric seals can be designed and manufactured in a range of materials and configurations including thermoset rubber (EPDM, NBR, FKM), thermal-plastic rubber, and elastomers to reinforcing substrates including rubber bonded to metal or plastic, or TPR bonded to metal or plastic. We controlled injection, compression, and transfer molding capabilities.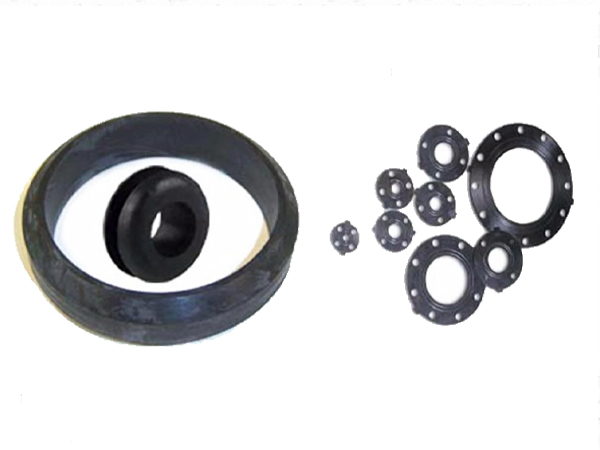 Rubber Sleeves
We are the specialist manufactures of sleeves for one of the leading Hitech manufactures. Our range of rubber sleeves is designed and manufactured as per international quality standards. These rubber sleeves are mainly used in various automobiles such as cars. We manufacture rubber sleeves by using high-quality rubber compounds such as neoprene, nitrite, EPDM, silicone, Viton, and other natural rubber. We also offer these rubber sleeves on a customized basis.
Rubber Washers
The rubber washer that we offer is a flat ring of rubber to give tightness to joints. These consist of a flat disk, which is placed to prevent leakage. Further, our range is available in different sizes and thicknesses, which can also be customized as per the application needs of the clients and we are testing the features Elongation, Excellent resilience, and Tear resistance. We are supply Automobiles, Electrical & electronic industries, Engineering industries, and Domestic home appliances companies.
Rubber Bellows
VPK offers a durable range of rubber bellows as per the client's demand. We are capable of manufacturing rubber bellows in different sizes and lengths for various uses. We have manufactured and supplied the gear lever bellow for one of the largest commercial vehicle manufacturers in India for use in their buses. These rubber bellows were made of natural rubber to withstand considerable heat. Also, the wall thickness of these rubber bellows were thick making manufacturing a big challenge.
Rubber Shock Absorber
Our rubber shock absorber is of high quality and at fair prices, which enjoy great prestige both at home and abroad. Specifically designed, engineered, and manufactured under consistent quality control. We also make new products according to our customer's supplied samples, designs, or technical drawings.
Our widespread area expertise assists us in producing a wide range of rubber to metal bonded items. These include automotive engine components, encompassing bridge bearings, rollers, conveyor belting, tyres, and many others. Our range is corrosion resistant; withstand extreme operating environments, resistant to oils, surface abrasion wear.
Rubber Profile
Manufacturer of automotive rubber hoses, automotive radiator hoses, automotive silicon hoses, and other custom rubber hoses. Rubber hoses for various end use can be supplied as per specification and drawing offered by the buyer. With a vast range of tools, molds and dies the range covers automotive radiator hoses, fire hoses, boots, bushes, bellows, washers, protection sleeves, etc., mainly used in automobiles, tractors, earth moving equipment, and many other application. Being a pioneer in our own manufactured items and on persistent buyers demands to buy maximum automotive range from us, Famicom also trades in the following items. Utmost care is taken in outsourcing these products to take care of buyer's specifications.
Molded Diaphragms
The wide array of rubber diaphragms we manufacture are used In break chambers of automobile, air pressure chambers as well as in gas chambers. These products are manufactured of rubber compound as the main raw material, which is coated with fabric for a better and enhanced performance. We offer rubber diaphragms to our clients at the most reasonable industry prices.